A NEW FORCE UNLEASHED!
Kids Quad Bikes & ATVs For Sale Adelaide, SA | CFMOTO CFORCE EV110 Youth ATV Moto Adelaide CFMOTO Australia
$3,990*
RIDE AWAY
CFMOTO is leading the way for the next generation of riders by introducing a state-of-the-art electric youth ATV that is set to change the game forever. This advanced, sports-orientated ATV is suitable for riders aged 10 and above, boasting an easy-to-ride nature that promotes a safe way for youngsters to develop their riding skills further. With distinctive futuristic styling, LED lighting, closed grille, aero wheel caps, ultra-quiet performance, hydraulic disc brakes all-round and an unparalleled array of safety features - including a unique digital geofence function and a safety tether switch that clips onto the rider's jersey the CFORCE EV110 sets the new standard for others to follow.
Available in Polar White / Lemon Green or Polar White / Lava Orange.
Under the legislation, youth quads do not require an OPD and have no minimum tilt angle.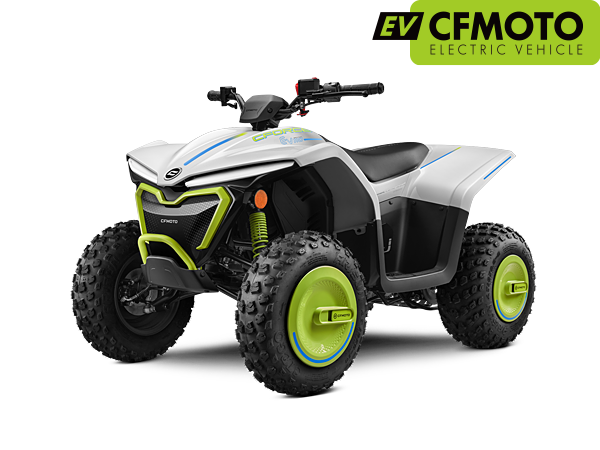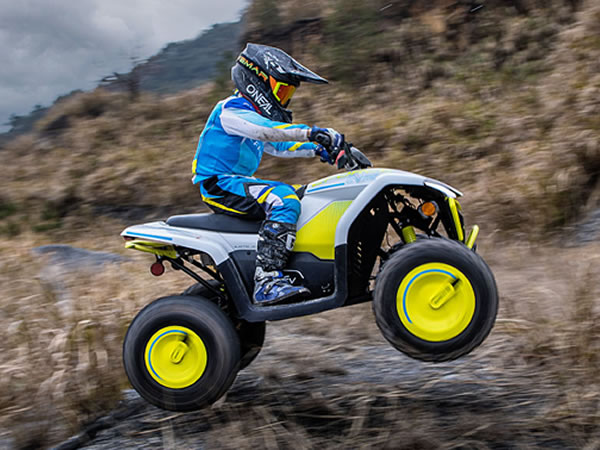 *National ride away prices are inclusive of freight to your local dealer and dealer pre-delivery charges. Excludes Regional WA and King Island dealers. Under the legislation, youth quads do not require an OPD and have no minimum tilt angle. Contact us to determine any additional charges applicable to your state and territory.
ELECTRIFIED PERFORMANCE
This game-changing youth ATV is powered by a 1500W electric motor that provides an exciting ride experience with smooth acceleration and linear torque delivery. Better yet, noise is kept to an absolute minimum with only a small amount of audible chain noise, even at full throttle operation.
POWER MODES
The CFORCE EV110 offers the choice between the two riding modes. Economy (E) mode limits vehicle speeds between 1km/h to 24km/h and extends the overall riding range. Sport (S) mode offers maximum performance for more confident pilots, enabling higher vehicle speeds up to 45km/h.
BE IN CHARGE
CFMOTO's Smart Safe Guard smartphone application offers parents maximum assurance and control with the ability to monitor the CFORCE EV11's precise location and distance, plus check essential vehicle status information, including ride mileage, remaining battery percentage, battery temperature and voltage. A convenient 'Low Battery Alert' notifies parents when the charge becomes low. Maximum vehicle speed can be controlled and personalised between 1km/h and 45km/h; unique speed limits can be set for both Sport & Economy riding modes, which is very handy for situations where you may have multiple children of varying experience and confidence levels riding the ATV.
BOUNDARIES, SOS & CALL BACK
Parents can also establish a Geofence up to 500m from their location using the Smart Safe Guard app. If the CFORCE EV110 exceeds the pre-determined barrier, a buzzing reminder will alert the rider, and the ATV's speed will be automatically limited. Parents are notified via their smartphones. If needed, young riders can quickly call for assistance by activating the SOS call button located on the ATV. This triggers an alert via the smartphone application. Conversely, parents can also remotely buzz the CFORCE EV110 with a Call Back, which informs the rider to return to base.
QUALITY SCREEN TIME
A 5" LCD instrument gauge displays battery percentage, speedometer, odometer, and active riding mode. Starting and Stopping the CFORCE EV110 is no more difficult than pressing the centrally mounted Start/Stop button. The integrated left-hand switch block controls ignition On/Off, Forward, Neutral, and Reverse gear selection, power mode selection and also features a horn.
SPORTY DISC BRAKES
Don't settle for a youth ATV with drum brakes. The CFORCE EV110 packs some serious stopping power boasting full hydraulic disc brakes across its twin caliper front brake and single caliper rear brake systems. The left-hand brake lever also operates a Combined Brake System (front & rear brakes), whilst the right-hand brake lever and foot brake pedal operate independently for ultimate control.
TESTED & TUNED FOR YOUTH
Tackling rough terrain for young riders will be a breeze thanks to the CFORCE EV110's double A-arm independent front suspension with premium oil-damped shock absorbers. Out back, a swingarm rear suspension system employs a single-shock absorber providing long wheel travel for a smooth, comfortable, and balanced ride. All three shock absorbers sport adjustable spring preload, which enables the ATV's suspension to be optimised for varying rider weights and adjusted as they grow!
RIDE LONGER
Riding enjoyment can be an all-day affair thanks to the CFORCE EV110's stellar 60km riding range providing over 3 hours of run time; that's a lot of seat time! The 44V, 2,400Wh lithium-Ion battery can be charged from 0% to 100% in just 4 hours. The battery is also removable allowing for convenient charging anywhere, anytime and is protected by an intelligent battery management system.
E-MOTOR & TRANSMISSION
| | |
| --- | --- |
| E-Motor | 44V, 1500W electric motor (max output 4500W) |
| Discplacement | Equivalent power to a petrol 110cc |
| Max Power / Torque | 4.5kW / 40NM |
| Battery | 44V, 53Ah, 2400Wh. Lithium-Ion. With BMS. |
| Transmission | 2WD, chain drive |
| Drive | F-N-R |
| Range | 60km or 3+ hours run time |
| Top Speed | 45 km/h |
SUSPENSION & BRAKES
| | |
| --- | --- |
| Front Suspension | Double A-arm, independent, 140mm of travel |
| Rear Suspension | Mono mid-placed shock absorber, 165mm of travel |
| Brakes | Hydraulic disc brakes with combined braking |
WHEELS & TYRES
| | |
| --- | --- |
| Wheels | steel |
| Tyres | Front: AT 19 x 6-10, Rear: AT 18 x 8.5-8 |
DIMENSIONS
| | |
| --- | --- |
| L X W X H | 1500 x 950 x 935 mm |
| Wheelbase | 1020mm |
| Ground Clearance | 120mm |
| Wet Weight | 130kg |
CAPACITY
| | |
| --- | --- |
| Battery / Charging | 550W / 4 hours from 0% to 100% (full) |
| Person | One |
FEATURES
| | |
| --- | --- |
| Recommended Age | 10 Years of age |
| Safety | speed limiter, magnetic safety tether |
| CFMOTO Youth App | Remote speed limiter, Geo-fence, vehicle status |
| Colour | Polar White / Lemon Green or Polar White / Lava Orange |
| Warranty | Two Years |
*Model specifications may change without notice.