STRONGER, SMOOTHER, SMARTER
Quad Bikes & ATVs For Sale Adelaide SA | CFMOTO CFORCE 625 EPS TOURING ATV Moto Adelaide CFMOTO
$11,490*
RIDE AWAY
CFMOTO's largest capacity, single-cylinder ATV, the CFORCE 625 EPS TOURING has undergone a series of technical updates and refinements for MY23 aimed at taking the already impressive package to new heights.
The 625 TOURING is distinguished by its longer wheelbase for two-up riding as well as a pillion backrest with grab handles, available in two liveries, Titanium Grey or Camouflage.
*Overseas model shown without Quadbar OPD installed.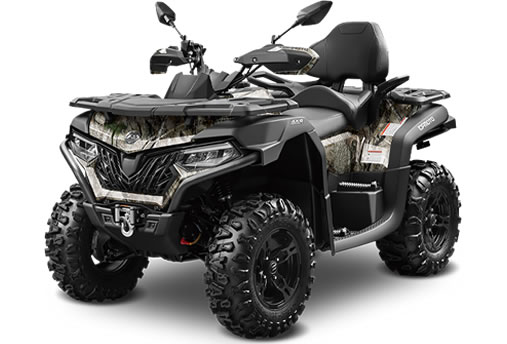 *National ride away prices are inclusive of freight to your local dealer and dealer pre-delivery charges. Excludes Regional WA and King Island dealers. Contact us to determine any additional charges applicable to your state and territory.
MORE POWER
The piston has been upgraded to a forged type (previously cast) for greater strength with reduced weight and vibration. A Diamond-Like Coating (DLC) piston ring also enhances the engine's durability.
Larger intake and exhaust tube diameters further increase airflow helping boost maximum power output to 45hp @ 6,500rpm (from 41hp @ 6,750rpm) and maximum torque to 51Nm @ 6,000rpm (from 49Nm @ 5.250rpm).
GO BIG
CFMOTO's engineers left no stone unturned when it came to reviewing the robust 580cc single-cylinder, liquid-cooled, fuel-injected engine in their quest for superior power and unmatched reliability.
The new cylinder head features revised intake and exhaust channels accompanied by a new combustion chamber design, optimised coolant channels, and camshaft profile. Complemented by larger-diameter intake and exhaust valves, resulting in a significant increase in engine performance.
SMOOTH RIDE
The chassis wasn't forgotten either; CFMOTO engineers made several modifications to optimize the engine mounting to reduce noise, vibration, and harshness.
Dual A-arm suspension delivers comfort and confidence in rough terrain, a class-leading turning circle of 7.25m guarantees easy maneuvering and four-wheel hydraulic disc brakes provide some serious stopping power.
ELECTRONIC THROTTLE
Having more power on tap is great, but how that power is delivered is arguably more important! That's why the MY23 CFORCE 625 EPS has been equipped with the latest UP6.0 ECU platform. Far more powerful than before, the 112-pin ECU unit (48-pin previously) delivers improved throttle connection, smoother control, and increased comfort
The throttle lever and throttle body have also been upgraded from mechanical to electronic (ride-by-wire) units as found on high-end sports bikes and enable the choice between two switchable drive modes, WORK and NORMAL.
612KG TOWING CAPACITY
Aussie farmers will certainly appreciate the additional power and smoother ride, but they'll really love the 612kg towing capacity (increased from 350kg) for tackling the bigger jobs.
NEW ATV LEGISLATION
Mojo Motorcycles, the Australian importer of CFMOTO, has introduced an updated range of quad bikes to meet stage two requirements of the Consumer Goods (Quad Bike) Safety Standard. If the model is advertised with the 'Quad Bike Safety Standard Compliant' logo, it is compliant with the requirements of stage two and will be supplied with a Quadbar OPD. The price shown on this model page is the ride away price for this quad bike fitted with a Quadbar OPD. The Quadbar OPD is installed by your CFMOTO dealer during pre-delivery.
For more information on Quadbar OPDs, visit www.quadbar.com.
*Overseas model shown without Quadbar OPD installed. For more information on the new ATV legislation, head to our ATV legislation page in the menu or speak to your local dealer.
ENGINE & TRANSMISSION
| | |
| --- | --- |
| Engine Type | Single cylinder, liquid cooled, EFI, four-stroke engine |
| Discplacement | 580cc |
| Max. Power Output | 45hp at 6,500rpm |
| Max. Torque | 51 Nm at 6,000rpm |
| Fuel System | Bosch EFI, ride-by-wire |
| Transmission | CVT |
| Drive | H-L-N-R-Park |
| 4WD | 2WD/4WD with locking front & rear differential |
| Rear Differential | Open rear differential |
| Steering | Power steer |
CHASSIS
| | |
| --- | --- |
| Suspension | Dual A-Arm, independent front and rear |
| Shock Absorber | Coil spring with oil dampening, preload adjustment |
| Brakes | All four-wheel hydraulic disc brakes |
| Wheels | 12 x 6-inch (f), 12 x 7.5-inch (r), alloy |
| Tyres | 25 inch 6-ply AT tyres |
SIZE
| | |
| --- | --- |
| L x W x H | 2235 x 1180 x 1390 mm |
| Wheel Base | 1480 mm |
| Ground Clearance | 270 mm |
| Weight (WET) | 415 kg |
LOAD
| | |
| --- | --- |
| Towing Capacity | 612kg |
| Carry Capacity | 35kg front/70kg rear |
| Fuel Capacity | 18lt |
| Person | 2 |
FEATURES
| | |
| --- | --- |
| Colour | Velocity Grey or Camouflage |
| Warranty | 2 Year Warranty |
| Tow Pack,Mirrors, Horn | Yes |
*Model specifications may change without notice.
CFORCE 625 EPS TOURING Colours